Sue and Caroline's Quiz Night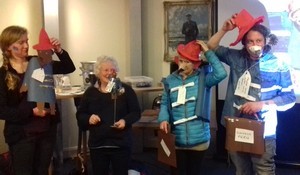 Thank you to all those who braved joining the quiz on Saturday.
Well done Naughty Penguins for coming up trumps with a dinky Paddington Bear. For those who cannot see it, Pams is holding it.
They won by 3 1/4 points scoring 43 1/4 . 
Abesent Friends shortly behind with a great flat Paddington. Followed by the Reluctant Phew with Sarah frantically crocheting Paddington's black nose, very apt, clinching 3rd place.
It was voted that the £351.00 raised go to Frank Dunster's Hayling Rescue Fund. Thanks everyone for your contributions.
Sue Bannister