Youth Firecracker Open Series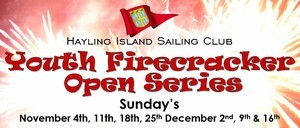 From Sunday 4 November we have the Youth Open Firecracker Series for Feva, Tera and Oppie sailors, each Sunday up to 16 December.
Plus  . . . From the 3 November the HISC main fleets start their Open Winter Series with a separate series  for Saturdays and Sundays.
Although we encourage Optimist and Teras to stay with the youth fleets, anything bigger is more than welcome on the main fleets.
More information and Entry details here
gjn