HISC Whitsun Regatta
(including the Int 14 Hayling Hull Open Meeting) ??
Saturday 25 & Sunday 26 May 2019
News
Results click here
Official Event Documents

Notice of Race available here - TBA
Sailing Instructions available here - TBA
Entry
Note - On-line entry TBA

Entry on the day is also available at the Club . . .
Regatta Tea tickets are included with entry fees for the event.
Programme
Registration Saturday 25 May 09:00 to 11:00
Briefing for competitors on Saturday 25 May at 11:00
Up to 5 races over 2 days (25 & 26 May) are scheduled.
Note that a Whitsun Charity Open Pursuit Race will take place on Monday 27 May 2019, and you are invited to take part.
Social Events Saturday
Kids early tea 17:30 - 18:30
Happy hour with nibbles from 1800 in the main bar. Video of the days racing will be shown on the big screen.
21:00 Band: TBA
We welcome all classes competing at the event to join us for dinner.
There will be some free wine for the class that is judged to have the best dressed or most impressive gathering. Fleets are encouraged to book tables in advance.
Social Events Sunday
15:00 Prize Giving and Regatta Tea: HISC's aim this year is to host our "greatest regatta tea ever" for competitors and their families.
16:30 Family beach games
Kids early tea 17:30 - 18:30
Curry night from 19:00. £12.00 per ticket. Tickets are available to purchase online or by calling the office.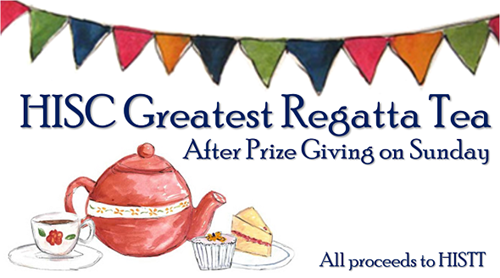 This year we want to offer a generous and splendid tea to our Regatta competitors which is included in the entry fee.
If anyone who isn't racing would like to buy a Tea Ticket they will be on sale online or from the office for £5.00 will all the proceeds going to HISTT Thursday Club 
Boat Parking
Trailer storage will be in a designated area in the Carpark next to the Lifeboat station, please ensure all trailers are labelled with owners name and sail number.
Mobile homes/camper vans
We are not allowed to open the site for motorhomes on a regular basis.
See the Mobile homes/camper vans rules
Contact the HISC Office - 023 92 463 768
Please help by abiding with the Camper Van rules so that HISC complies with the law and retains the goodwill of its neighbours.