RS Feva at HISC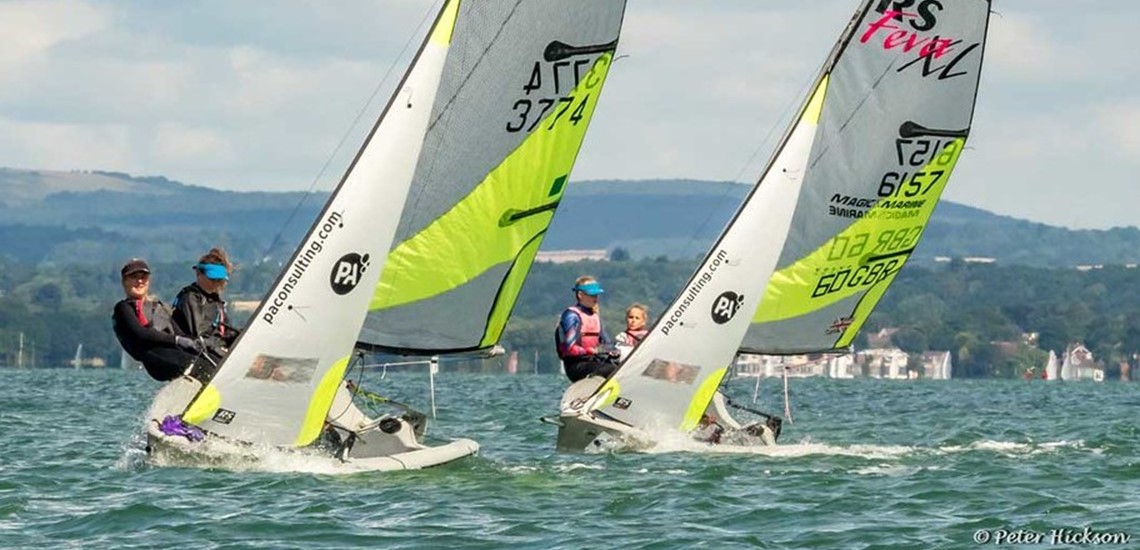 The popularity of RS Fevas at HISC is the result of a varied and continuous programme of training.
Contact: Christine Harper - [email protected]
The RS Feva is the world's best-selling two-person dinghy with an asymmetric spinnaker, designed for children (and smaller adults), for fun! It is an RYA supported class and as popular for pleasure or training as it is for excitement on the racing circuit. RS Fevas can be rented from HISC, so anyone can have a go and find out for themselves!
The popularity of RS Fevas at HISC has been created by a varied and continuous programme of fun, training and racing accessible to all abilities of sailor, from the chilled leisure sailor to the back of a fleet racer and potential world champions.
At HISC we have over 60 RS Fevas, and in 2019 we will continue to provide a fun and varied programme for all abilities of youth sailor.  Feva sailors come in all ages, genders, sizes and combinations. The Feva can be sailed by all boy, all girl and mixed pairs, as well as by a parent and child pairs; even novice ladies love it as a single-hander under main alone.
TRAINING
For those hardy Feva youth sailors not involved in the Feva Winter training, preparation for the 2019 season starts in earnest with the Rust Remover in early April, swiftly followed by Youth Race Camp week, which is aimed at youth sailors keen to grow and consolidate their skills ready to compete successfully on the local and national class race circuits.
May Half Term will see another run of the ever-popular Youth Training week, this time focused on Feva beginners: sailors new to the RS Feva from other single- and double-handed classes to help them transition. And throughout the season Saturdays will continue to be a mix of fun sprint or team racing and Train-and-Race days.
Training is led by professional young coaches, aided by successful older Feva sailors. This is a powerful combination which the kids love, and also provides great opportunities to make friends, find a sailing pair, hone skills and gain confidence in racing.
RACING
Sundays will continue to be race days in 2019 at HISC. Fevas will have their own start in youth Club racing, and sometimes with the adults (think bank holiday charity pursuit races) alongside the adult fleets!
The season will run from April to Christmas and will see a mix of race series. The four series format trialed in 2018 will be continued with racing located in as little tide as possible away from the adult fleets to provide a good environment for more novice sailors to gain confidence before they take part in bigger Club events, and to provide experienced sailors with the opportunity to perfect their boat handling skills.
Interspersed between short series racing, the popular Sprint Race days will continue to provide variety with a format of up to 6 races in under 2 hours pushing the pace towards fast and furious, alongside the beloved Pennant Race weekends with their own start and weekend prizes.
Youth Race Week and Chichester Harbour Race Week will remain as key local fixtures for the Feva in August, and we look forward to a bumper year entry-wise in 2019 with no European championships running in parallel on home waters. 
In 2018 HISC was very proud to have great success at national level in both the gold and silver fleets at the National champs, European champs at the RS Games, and at the World champs in Florida. And with several members in the National Junior and Class National Squads this Winter following great performances in the national ranking events, we look forward to more fantastic results for the Club in 2019!
Great news too for members just beginning to travel outside HISC on the race circuit as there will likely be someone familiar on hand to give advice on where to stay, travel suggestions etc. - the parents are a friendly bunch!
See the Youth Fixture List here