Red Ribbon Training Club and Red Ribbon Regatta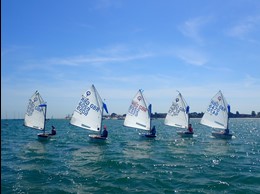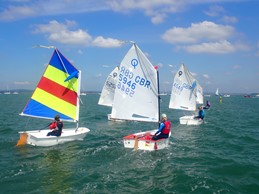 Optimist and RS Tera Red Ribbon Training 2023

This fun four-day course, organised under the supervision of Melvyn Cooper Sailing, has been developed to build children's confidence when making the transition from sailing beam reaches in the lagoon to sailing simple triangle courses on West Mud culminating with an introduction to youth club racing.
Red Ribbon is a hugely successful part of the HISC Youth Pathway with children sailing across the best tides of the early season in small groups under the tutelage of qualified dinghy instructors.
All children involved gain confidence, form friendships, and learn fundamental skills that help them progress to the next stage of their sailing career. It is available for both Optimist and RS Tera sailors, but all participants will either need their own boat or organise to hire one through the sailing club.
Red Ribbon is not for your child if:
• They are a beginner and not yet confident tacking and gybing in the lagoon.
• They have not completed RYA Stage 1 & 2 at minimum age of 8 years old (HISC policy)
• They have already started racing in the Regatta fleet and need a refresher. Please contact your class captain for information about similar sessions.
• They are looking to start race training or head quickly into the IOCA pathway. Red Ribbon is a precursor to this, giving children the opportunity to have their first go at racing by the end of the course.
Red Ribbon is for your child if:
• They have completed RYA Stage 1 & 2 at the minimum age of 8 yrs. old (not 7yrs old) and practiced these foundation skills last year (HISC policy)
• They can tack and gybe confidently when sailing in the lagoon
• They would like to be able to sail independently around West Mud
• They would like to learn how to sail around a triangle course
• They would like to learn how to start and finish a short race
• They can commit to 4 training days that leads to Red Ribbon Regatta
• They would like to try racing in the Bronze fleet during this year's Youth Race Week
Red Ribbon Training 2023
- Saturday 22 April
- Saturday 6 May
- Saturday 3 June

- 

Saturday 17 June
Red Ribbon Regatta 2023
- Sunday 16 July
Costs:
As a guide we expect the cost for the four-day course to be approximately £140-£150 (£35-37.50 per training day) but costs will be finalised once we have confirmed numbers of participants and booked instructors.
The group will be kept small, no more than 24 children divided into 4 groups of 6. It is not possible for participants to be refunded if they are unable to make one of the days.
The Red Ribbon Regatta is separate to the training day.
It is fun racing with coaches on the water and prizes. This is expected to have a £10/£20 entry fee. This is a fantastic end to the training course and leaves children confident to take part in other youth racing events.
Once places are confirmed by Melvyn and Lana parents will be able to make payment via the office.
Parental Participation:
Parental participation is vital to aid the children's confidence and to help on the water and shore.
We will have use of club rescue boats as part of the course; however, parents are required to help with launch and recovery, and there may be need to assist the coaches afloat.
If you have a RIB that can be made available for the course duration please consider if this can be utilised by us, as it would enable us to open the course up to another group of children. Costs would be reimbursed at standard HISC rates.
This is NOT a DROP and Go, be prepared to learn as much as your child!
Signing up
To sign your child up for Red Ribbon 2023 you must complete the booking form found here: https://forms.gle/k1fzr1qTxqSfSCkNA. This includes questions that the coaches will use to organise the children into groups and understand how to help the children move forward with their sailing goals.
The booking form will be open until the 24th Feb at which point the coaches will allocate sailors into groups depending on their experience, goals and boat type. We will do our best to accommodate all requests for a place, but we are limited to 24 sailors as this the maximum resources available for safety so please note filling in the form does not guarantee a space on the course.
Once offered a space you will have to pay in full for all four days to secure a place.
Information on how to pay will be shared once the places are confirmed. We will confirm places and costs by email.
- Lana Kelsey and Melvyn Cooper