RS Tera and Tera Pro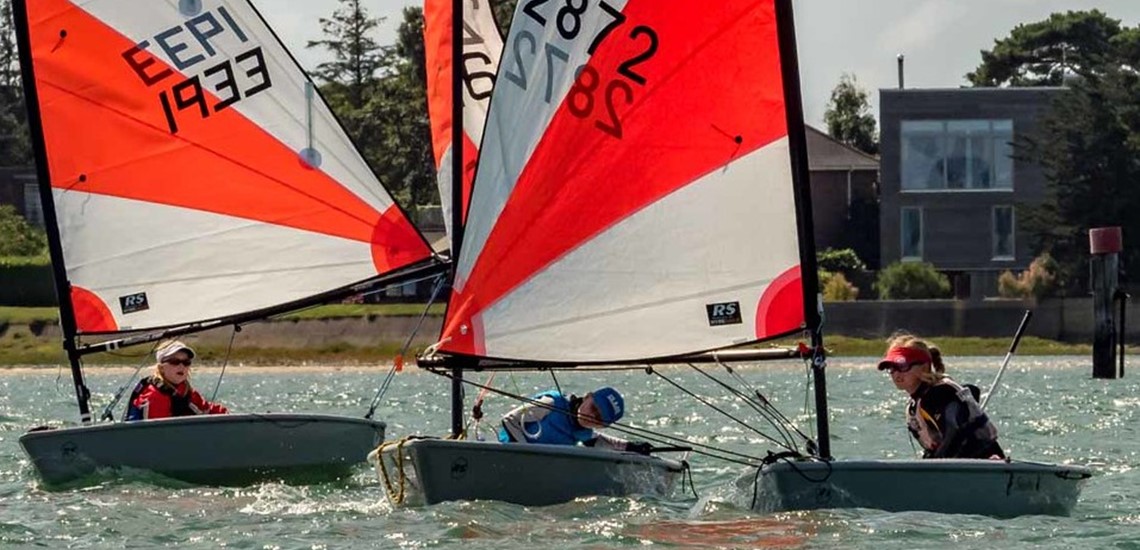 At HISC we have over 100 RS Teras in our fleet, the sailors of which vary greatly in age and ability, so as a fleet we try to cater for all of their needs.
Class Captain: Dawn Ripley - [email protected]
The RS Tera is the ideal first boat for children. It can accommodate children from ages around 7 to 14 years of age. It is available with two size rigs, the Sport and for the older children the Pro which is a fully battened larger sail.
You don't have to own an RS Tera to get involved – HISC have a large number available to hire.
The RS Tera Red Ribbon Training Club was developed to build children's confidence to enable them to make a smooth transition from sailing in the lagoon to sailing on West Mud.
Our first year of this initiative was hugely successful with 12 children participating. Three of these children went on to take part in the RS Tera Nationals Regatta Fleet, and almost all of the others competed, and more importantly enjoyed, local racing events at the club
The RS Teras have their own start in the Sunday Youth racing series and once a month, in the season, there are Pennant Weekends where racing takes place on both Saturday and Sunday with prizes awarded at the end of the weekend.
Sprint Racing for the RS Tera fleet is added to calendar whenever we can, mainly during holidays and half terms, but also occasional Saturdays. Sprint Racing involves between 6 – 8 very short races, run back to back, which are great for practising and building confidence as well as for building strong friendships.
Plenty of opportunities abound for RS Tera sailors in the summer holidays. HISC Youth Race Week attracts two fleets of RS Teras - the Red Ribbon Fleet for sailors new to racing, and the main fleet for the more experienced sailors.
The RS Tera fleet has its own race course on West Mud for the annual Chichester Harbour Federation Week, normally the best tides of the whole summer
As the RS Tera fleet tends to involve younger members of youth there is a high level of parent participation and help is required both on the water and ashore. This makes the fleet a great sociable environment for both the kids and their parents and siblings.
See the Youth Race Fixture List here