HRH Princess Royal Opens UK's New Premier Sailing Club
Friday 14 March 2003, HRH Princess Royal, officially opened the new lottery-funded clubhouse at Hayling Island Sailing Club.
Accompanied by the Commodore, Tim Hancock, HRH was shown around the new building and introduced to HISC members, the Mayor and Mayoress of Havant and representatives from the Royal Yachting Association, Sports England, Havant Borough Council and TSL, the building contractors.
The new clubhouse and its facilities establish HISC as the United Kingdom's leading dinghy sailing club. The RYA's World Class Performance Plan identifies HISC as a Sport Specific Sailing Institute and, as such, a centre of excellence for sail training and competition at World Class level.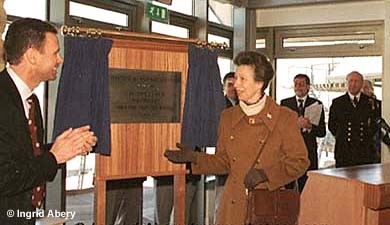 In its 80-year history, Hayling Island Sailing Club has had a leading role in British sailing encouraging innovation and development, hosting Olympic, national and world-class events, and nurturing many generations of sailing champions, including five Sydney Olympic medallists.
Tim Hancock, Commodore, said, "After years of planning and hard work by a large number of members and flag officers, it is a great honour to be able on behalf of all our members to finally open the new club house."
"This new facility would not have been possible without the financial support of Sports England and our members, and the energy and support of the RYA".
Facilities include a 360-degree race control tower offering magnificent views over the Chichester Harbour race areas with full public address system. A full race management suite adjacent has a fully fitted race communication centre with computers to assist with speedy race results and internet access.
Extensive balcony views of race area and live 'TV' race action broadcast in the clubhouse bring the action on the water to the spectators on the shore.
The new facility also has new and upgraded accommodation, bars, restaurants, disabled facilities, a dedicated training room and scrutineer's shed. New sea defences protect the new clubhouse from the sea.
2003 will see HISC hosting a full programme of club racing and activity weeks, numerous open meetings, National, European and World Championship events including the RYA Youth Championships and Trials, International 14 Europeans and Prince of Wales Cup, International 420 World Championships and RS700 & RS800 UK National Championships.
In 2003 four new exciting training programmes of new opportunity will be implemented which will provide for not only children new to the sport of sailing but also a Local Affiliation Programme, Duke of Edinburgh Award Programme and a Pathway to Excellence Programme.
Young sailors and local school children will benefit from these programmes, which aim not only to lift the profile of the sport of sailing, but to provide opportunities for the new children to enter the sport and also for sailors within the sport to expand and build on skills already achieved.

First new member? - Barry and Celia Edgington are the proud parents of a little boy! Born on HISC opening day . . . great timing! 6lb 5oz and all doing well. Many Congratulations. - AM