Volunteering at HISC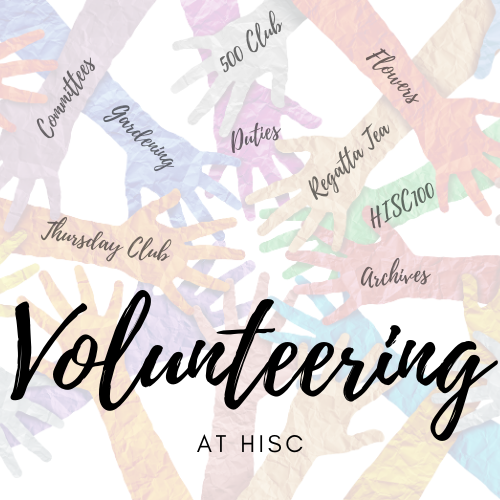 Meet new people, find new friends and make a difference. Time well spent!
Although the Club is managed by a team of professional staff, it is impossible for them to do everything that is required to run all the events and activities that the membership demands.
The success for HISC both on and off the water would not be possible without the members who volunteer their time and talents to help organise and support a wide range of activities. Indeed, there are many tasks carried out by volunteers over and above the Club's compulsory duties. 
Not only do these volunteers make a difference for their fellow members being part of the team to run events and activities which otherwise would not happen, they enjoy the chance to socialise, make new friends and get involved in the HISC community. More often than not, volunteers have the opportunity to gain new skills, knowledge and experience whist other are able to make use of their professional skills and knowledge to the benefit of others. 
Whatever their motivation, what unites all our volunteers is that they find it both challenging and rewarding. 
How you can get involved?
Some tasks, such as sitting on committees require commitment, but others are more ad hoc and cost little in the way of time. Whatever your area of expertise or interest, make 2023 the year to help deliver the excellent work of our volunteer-led groups. It will without doubt be time well spent!
Officers of the Club 
The roles and responsibilities of Trustees, Elected Officers and Committees are outlines in the HISC Rues within the Club Handbook. Entry point is to offer to serve as an elected representative, or in a co-opted role. 
Club Duties 
Although most members are required to do two duties per year, many do more as they enjoy getting involved and meeting other members. Dutyman records all allocated duties and details of what each duty entails are outlined in the Club Handbook and on the website here.
Other volunteering options are many and varied: 
Club working parties
Clearing sand 
Rearranging dinghy parks
Building sea defences 
General maintenance 
Usually out of season and outside
Coffee, soup and rolls provided
Advertised on the website, weekly e-Newsletter and on our social media @haylingislandsc (Instagram & Facebook) 
Gardening
Keeping the cultivated areas round the club tidy
Spring and autumn, outside 
Coffee, soup and rolls provided 
Thursday Club (Thursdays, May to September 4-6pm)
RIB drivers 
Instructors 
Beach / Admin team
More information can be found here
Youth Sailing 
Race officers, mark layers, safety boat and beach crew
Family Fun Week 
A great way to meet other families 
Women on Water 
Safety boat crew 
Thursday mornings 
Archive management 
Help our resident archivists research and record the Club's rich history.
Nearly New Sale 
Help sort through donations, man the stall, etc. over the Easter weekend
500 Club monthly prize draw 
An hour or so each month for the draw 
Occasional meetings 
Christmas Fair 
Raffle/tombola donations 
Manning stalls 
Selling really tickets 
Baking cakes for cake stall 
Lost property sale
Whitsun Regatta Tea 
Making sandwiches
Baking savouries and cakes 
Serving teas 
Social Sailing Group 
Organising mid-week cruises
Meetings/lunches out of season 
Flowers 
Arranging fresh flowers in the clubhouse each week
Ladies' Lunch Committee 
Two or three meetings in the winter 
Thirsty Club Committee 
Help organise interesting speakers 
Chichester Harbour Race Week
Many jobs ashore and afloat as par of one of the country's leading sailing regattas
Other possibilities 
Any member who would like to organise an event on the club premises (e.g. film night, painting demonstration, exercise classes etc.) can contact the office. 
To get involved or find out more about any of the Club's activities, simply: 
Speak to the HISC office who will point you in the right direction and forward your details to the relevant volunteer organiser; or 
Ask other members involved; or
Keep and eye on the weekly e-Newsletter, on the website and club social media @haylingislandsc (Instagram & Facebook)
Volunteering Questionnaire Update