Boardsports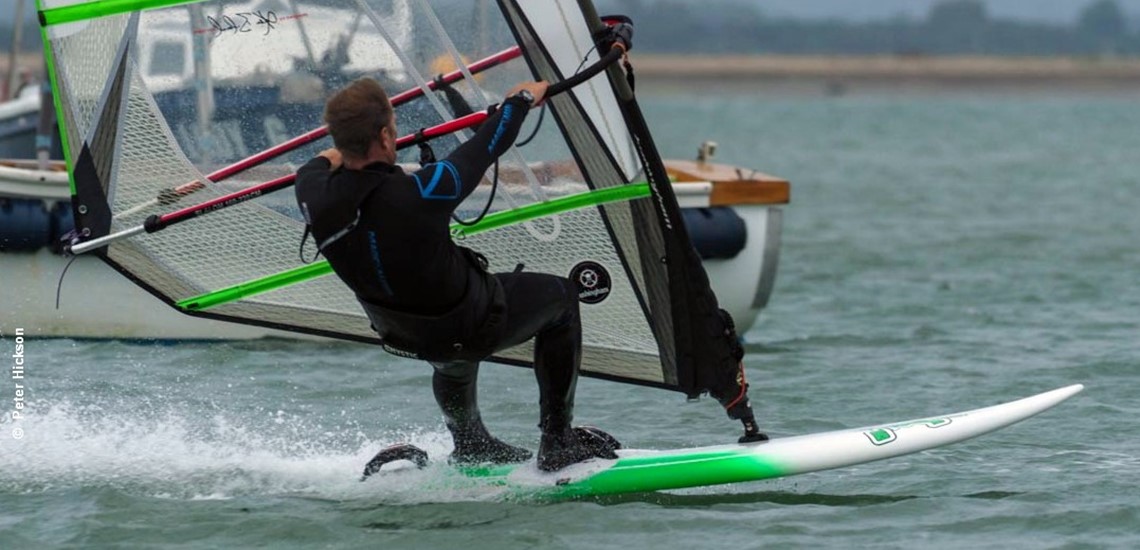 Boardsports at HISC are a thriving community for all ages.
Class Captain: Mike Pringuer - windsurfclasscaptain@hisc.co.uk
At higher tide states, we have general bump and jump, and at low tides we have two speed strips to play in with zero fetch providing perfect flat water.
Foiling is becoming very popular amongst adults and we also have some very skilled kids showing the adults how to do it! Depending on the conditions, we quite often decamp to the sea front at Hayling or elsewhere. 
The windsurf community is friendly and approachable – from hints and tips, help with rigging, and general looking out for each other on the water.
We have a HISC Windsurfing Facebook group, which is open to HISC club members only. There are also various WhatsApp groups for kids, adults, foiling etc.
For fun there is a hall of fame to record your GPS speeds. Some impressive times have been clocked up of late including ~27 knots from sub-teens to >40 knots from adults.

Beginners
HISC offers windsurfing lessons – enquire at the office for details. The lagoon makes for great initial training ground prior to venturing out into the main harbour. Lessons are available for kids 8yrs old upwards and adults. SUPs make ideal windsurf beginner platforms, notably

Kit Hire
The club has windsurfing gear available for hire. This is aimed more at beginners and early stage windsurfers. Book with the office.

Coaching
We work with pro-coaches, such as Simon Bornhoft who is also a member at HISC, and he will be running sessions at HISC throughout the year, timings TBC.

Supported Windsurfing Sessions (Windsurf Club) 
We are running some sessions for windsurfers that could do with some support on the water knowing that there is RIB rescue cover. For some, launching in the prevailing SW offshore breeze can be daunting, and these sessions provide a valuable confidence boost.
These sessions are run by club members with the format being a RIB with an experienced windsurfers who will be providing rescue cover & informal coaching + hints/tips etc. This is backed up by a beach spotter keeping an eye on things and in radio contact with the coach.
These sessions are free and are booked via the office. Booking opens 1 week prior to date of session.
SUPs
Quite a few of us have SUPs which are great in no wind, and also serve as good light wind windsurf platforms.

Round Hayling Island Challenge
Click here for the Event Page...

Rescue
There is no official rescue cover (except as provided for organised sessions), but there are generally plenty of eyes on you in season, and quite a few members with ready access to RIBs. But don't rely on this. Tell a friend, check your gear, carry some rope to use as spare downhaul etc. When did you last replace that UJ? When did you last check that boom clamp?
As a backup, it is a good idea to carry a phone on the water in waterproof bag or better still, a VHF radio. Don't rely on devices being waterproof – they are not tested to withstand impacts with water from windsurf wipeouts…put them in an AquaPac or similar.
Frank Dunster operates Hayling Rescue on a voluntary basis, and this is wholly reliant upon donations. Hayling Rescue is contactable on Hayling Rescue - 07833073365 and VHF channels 37 & 16.

Storage
Onsite storage is very limited as with most venues. There are some windsurf lockers which come up from time to time, but there is a waiting list. You are encouraged to get your name on the list so we can monitor demand. We are trying to find funding for additional lockers currently.